MICHAEL FRERKING
     Architect & General Contractor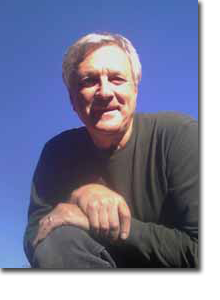 Born and raised in the San Francisco Bay area, Michael was witness to that area's uncontrolled growth. Choosing to direct his energies toward a more sustainable solution to our built environment, Michael obtained his architectural degree from Arizona State University in 1973. Unlike most architects of that time, however, Michael focused exclusively on sustainable practices; particularly on high mass earthen buildings that promoted passive solar heating and cooling. One of his earliest designs - featured in Arizona Highways - was the Greib Home, the first passive solar home in Arizona.
Again, unlike most architects, Michael recognized early in his career that quality architecture – one designed to meet both a specified budget and high sustainable building standards -- is only as good as one's knowledge of sustainable construction. Michael, therefore, worked in the construction field for two years before opening his own architectural practice.
In 1976, Michael began Living Systems, an architectural practice dedicated to designing energy efficient, high mass, passive solar homes. Focusing first on adobe and rammed earth as his main wall building materials, Michael knew that there had to be a better method for "pouring" earth that would reduce both time and labor and thus make earthen homes less expensive to build. By 1994, Michael had designed a mix that could do just that! (See Poured Earth page)
Since that time, Michael has become well regarded, nationally and internationally, as one of the leading architects in the field of high mass, earthen design and construction. Acting today as both architect and builder, Michael provides quality, creative architectural services that promise to meet the client's budget and aesthetic desires.
JOHN LUTES
     Partner in Living Systems Building Group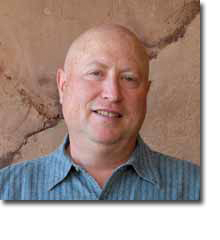 John has followed an eclectic path. Always interested in environmental issues, John graduated from Northern Arizona University in 1976 with a degree in Forestry and soon began to work with Colorado State University and the U.S. Forest Service. Realizing that he needed to supplement his income, John returned to NAU for a master's degree in Business Administration. He soon picked up a part-time job with a national furniture corporation. Management, realizing John's abilities quickly promoted him. John soon became part of upper management.
John also had an artistic bent and began to study glass blowing. In 2000, John
chose to leave the furniture business to help start a high-end art gallery in Prescott. As treasurer and chief financial officer for Van Gogh's Ear Gallery, he was able to steer the gallery to profitability within the first year. He also enjoyed excellent sales of his blown glass artwork.
In 2006, John was ready to get back into the field of sustainability. To that end, he took classes in the Building Science Division at Yavapai College in Prescott, Arizona, from professors well schooled in sustainable building.
A long-time friend of the Frerking's, John was approached my Michael in 2008 to work with Living Systems Building Group. Aware of John's array of business skills, Michael recognized that he was a perfect match to complement the architectural side of the design/build business. An excellent partnership was created.

Please contact LIVING SYSTEMS about your project by calling
928-710-2413 or by email: michael@michaelfrerking.com.