MISSION STATEMENT
Living Systems' mission is to further the sustainability of life
by addressing the design, construction and life cycle of our
built environment for you and for generations to come.

A healthy and sustainable lifestyle is the result of smart choices. Smart choices are the result of up-to-date information. Living Systems is dedicated to empowering its clients to make informed choices about how they want to live now and what they will leave for future generations. Recognizing that buildings consume about half of all energy in the United States and are, therefore, responsible for nearly half of all greenhouse gas emissions...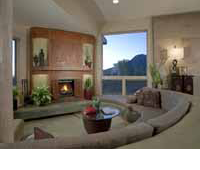 Living Systems has taken a leadership role in establishing sustainable building standards and ethics that:
• Exceed LEED for HOMES standards
(READ about our "NET-PLUS" homes that produce excess energy and water)
• Provide for health and comfort
• Create affordable, quality buildings
• Result in a pleasing regional aesthetic

Here is what a recent article in GREEN BUILDING & DESIGN magazine had to
say about LIVING SYSTEMS:

"A rapid evolution of concept. That's how innovative architect and home builder, Michael Frerking, describes his professional process and approach. His design/build company…develops brand new technology and integrates it into the overall architecture, creating some of the most efficient structures by any grading scale in the United States or Europe…. Although the technology Michael and Living Systems employs is cutting edge and in many cases years ahead of what other builders are doing, there is a conscious design choice to make the advanced systems work with the boundaries of good aesthetic design and realistic budgets." (READ entire article)

DESIGN/BUILD
      A Different Kind of Architectural Practice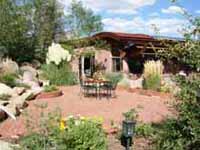 Whether undertaking new construction (residential or commercial), a remodel of an existing home or an international project, Living Systems is dedicated to making your sustainable Design/Build project a WISE FINANCIAL DECISION. Through the practice of VALUE ENGINEERING, a method that both controls and reduces costs, enough money will be saved to pay for the architectural fee and more. READ MORE about why DESIGN/BUILD is the better financial choice when it comes to realizing your dream home.
POURED EARTH
     High Mass for Comfort, Health and Energy Savings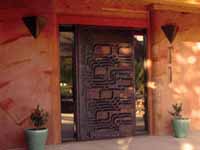 Although Living Systems designs and builds houses using various sustainable wall materials, it is Poured Earth for which they are known. Creating aesthetically pleasing, textural, 16" thick, high mass walls, Living Systems designs for health, comfort, art, and ease of maintenance. READ MORE about the benefits of HIGH MASS and Passive Solar Heating.
In 2012, Living Systems began taking steps toward making Poured Earth (PE) one of the most environmentally responsible wall building materials available as it began the process of replacing Portland cement and synthetic flyash with Magnesium Oxide (MgO) as its binder. This technological breakthrough promises to replace the largest carbon producer of any single building material (Portland cement) with one (MgO) that actually sequesters more energy than it requires to make rendering it net minus in terms of carbon production. The first home that will use MgO as part of its Poured Earth binder is presently being built and the walls will be poured in July of 2012. (READ MORE about the Tidwell-Teachy residence on "Projects in Progress" page)
But the benefits of MgO go beyond Poured Earth as Living Systems' ultimate goal is to work with one of the leading producers of MgO (Premier Chemical) toward the replacement of Portland cement in the production of concrete world-wide.
Please contact LIVING SYSTEMS about your project by calling
928-710-2413 or by email: info@michaelfrerking.com.